Geotargeting For eCommerce: 8 Helpful Tips To Enhance Your Store
eCommerce has allowed stores to go global. But that doesn't mean you should treat all your global shoppers the same.
If you want to optimize your store, you need to display products, prices, and information that's relevant to each shopper, no matter where they're visiting from.
Using geo targeting on your eCommerce store is one way to help you do that. And in this post, I'm going to share 8 different ways that you can geotarget your eCommerce store to improve its usability and conversion rate. And then, because we love WordPress, I'll also tell you how to implement each tip for a WooCommerce store.
1. Personalize Products Based On A User's Location
Do you know what people in Hawaii don't need? Winter coats!
So if your store shows Hawaiian visitors winter coats on the landing page (or the equivalent for whatever product you're selling), your conversions are going to sink.
Geotargeting helps you fix that by letting you show different products or groups of products to users from different locations.
You can perform this targeting in any number of ways. A couple good starting points are to show different products by:
Climate (good for clothing or equipment companies)
Interests (good for products with strong regional/national followings)
Check out this neat example from Optimizely where cold weather shoppers see information about winter coats and others see shoes: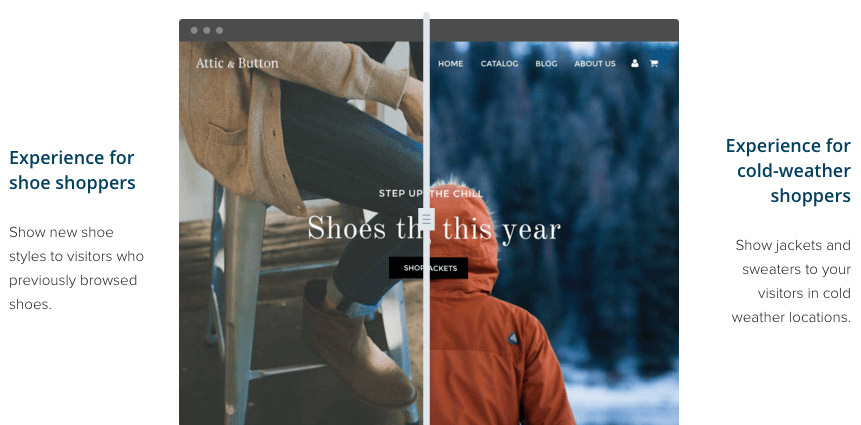 Here's How To Do It
To show different WooCommerce products to visitors from different locations, you can use the GeotargetingPro. Read this post for more information.
If you're working with your store's homepage, you might need to use Geotargeting WP's PHP functions, as the shortcode functionality is more suited to individual products than your homepage.
You could, for example, display one category for a certain geolocation and another product category for the rest of your visitors.
And to simplify things further, you'll probably want to take advantage of Geotargeting WP's Regions feature, rather than trying to target individual countries or cities.
2. Change Price And Tax Based On A User's Location
If you have visitors from all around the globe, there's a pretty good chance that some of them use a different currency than your store's default currency.
To make their lives easier, and save them the time of performing currency calculations by themselves, you can automatically display the price in their local currency based on an exchange rate that you specify.
Depending on tax laws, you might also want to change how much tax you charge to go along with the price.
As a result, shoppers will instantly have the price context they need to make their decision.
Here's How To Do It
If you're using WooCommerce, you can personalize price based on a user's geolocation using a combination of the Geotargeting WP plugin and the free WooCommerce Price Based on Country plugin.
Once you have both plugins installed, you can use this code snippet to integrate the two together. And you can also check out this post for more information on how to geotarget WordPress and WooCommerce content.
3. Advertise Free Shipping To Only Users Who Qualify
Your store probably has some type of free shipping promotion, but it likely doesn't apply to the whole world, right? Or if it does, it might have different order minimums or other criteria.
Geolocation allows you to display specific, accurate notifications based on a user's exact location.
For example, check out how Dolls Kill customizes its shipping offer to my location (I live in Vietnam):

Here's How To Do It
You can use Geotargeting WP's Regions feature to create groups of locations that qualify for each shipping promotion. Then, you can display custom messaging to each region following these steps.
4. Display The Nearest Location (For Stores With Physical Locations)
This one won't apply to all eCommerce stores. But if you're running an online store that also has physical locations, letting your shoppers see the nearest brick and mortar store is a nice way to let them know they have additional options.
Geotargeting lets you do this, even down to the nearest zip code. That way, you can do what the big boys like Best Buy do: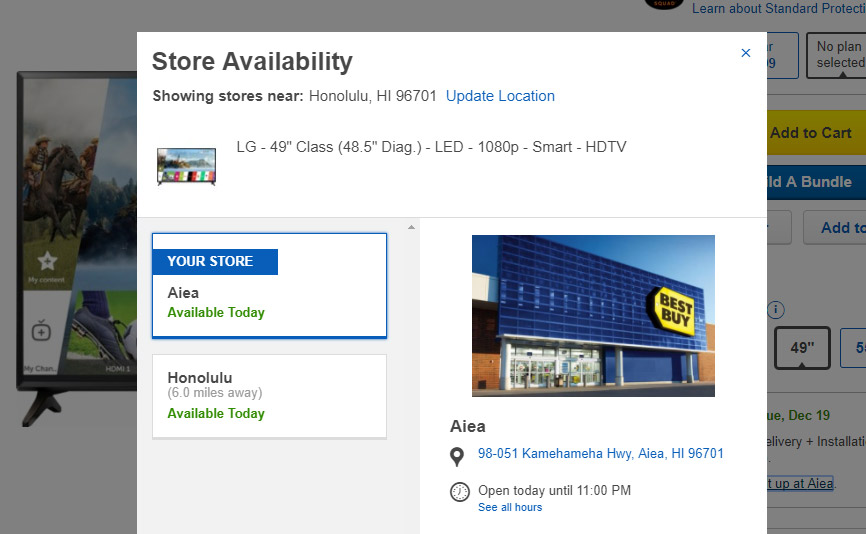 Here's How To Do It
You can use the GeotargetingWP shortcode or PHP function to display a separate message to each individual zip code or city that notifies them of the nearest store. Using the same principles, you can also create a catch-all message that displays for locations without a nearby store.
Read this post for a more in-depth guide.
5. Automatically Change Language For A User's Location
Beyond simply changing the price of a product, if you have a multilingual store, it's helpful to automatically redirect each user to their local language to ensure they have the best experience possible.
Geotargeting lets you seamlessly do that without degrading a user's experience.
Here's How To Do It
With Geo Redirects for WordPress, you can quickly redirect users to the translated version of the exact page that they're already on.
The plugin lets you use dynamic information to redirect users without negatively affecting their browsing experience.
6. Showcase Location-Specific Offers Or Promotions
Sometimes you might run eCommerce promotions that only apply to a specific region. Or, you might want to display different promotion messaging to different regions to maximize your conversion rate.
With geotargeting, you can always display the messaging that is:
Relevant to each specific shopper
Designed to get the best conversion rate from each specific shopper
Here's How To Do It
Check out our general guide on how to use GeotargetingWP to change content based on a user's location.
The Popups Premium plugin also integrates with Geotargeting WP if you'd like to use popups to show the offer details.
7. Display Localized Shipping Notifications
I already told you about advertising free shipping based on a user's location. But another neat thing that you can do is display shipping notifications for local events and holidays.
For example, let's say that you want to display a shipping cut-off for Christmas delivery. The cut-off might be:
Dec 21st for in-country shoppers
Dec 18th for international shoppers
With geotargeting, you could display a location-specific prompt so that shoppers know exactly when they have to get their order in for their own specific location.

Here's How To Do It
You can use Geotargeting WP's Regions feature to create groups of locations for each cut-off date. Then, you can either change your content based on a user's location or show a geotargeted popup using the Popups Premium plugin and Geotargeting WordPress plugins.
8. Redirect Users Who Your Store Doesn't Serve
Finally, sometimes you just plain might not operate in the location a person is visiting from. In that case, you might want to show them a message (or redirect them to a different page) so that they know your store doesn't operate in that area.
Geotargeting lets you do that without disturbing visitors in the locations you do serve.
Here's How To Do It
Use Geotargeting WP's Regions feature to set up a region for all the locations that you don't serve: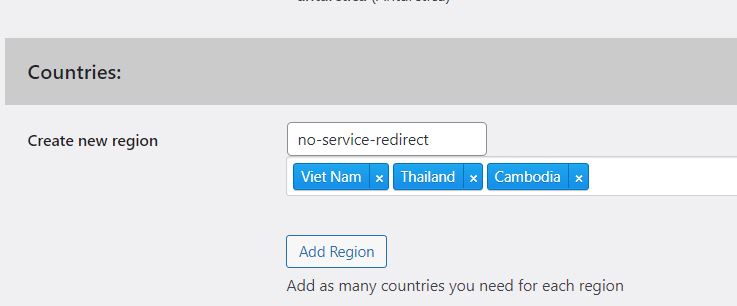 Then, you can either display a targeted message to just that region, or you can use Geo Redirects for WordPress to redirect them to a completely different page.
Wrapping Things Up
eCommerce is a competitive industry, which means your store needs every edge it can get. Using geotargeting for eCommerce helps get you that edge and ensure that your store is always optimized, no matter where potential shoppers are visiting from.
Implement some of these methods today and see if they can increase your conversion rate, revenue, and, most importantly, bottom line.
Powered by Froala Editor